Share the love with refer a friend
At 1ST CENTRAL we love it when you tell your family and friends about us, so much so that we want to reward you for doing so. That's why we'll give you a £30 Amazon Gift Card and a £15 one for your friend! Sound good?
Refer a friend
What's the offer?
Who doesn't love free money? Well, by simply referring a loved one or a friend to 1ST CENTRAL, that's exactly what we're offering you! And guess what, there's no limit to how many referrals you can make in a year. All you need to do is share your custom link with your friends, and when they purchase their 1ST CENTRAL policy, not only will you get a £30 Amazon Gift Card, but they'll get a £15 one too!
Refer a friend
How does refer a friend work?
Step 1

Know someone that needs car insurance? Send them an invite with your custom link.

Step 2

If they take out a 1ST CENTRAL policy via your link, you'll be eligible for a £30 Amazon Gift Card and they'll receive a £15 one too!

Step 3

Your Amazon Gift Cards will be sent within 60 days of your friend's policy start date.

Step 4

Keep sending your custom link to your friends and family! Every time they take out a new policy with 1ST CENTRAL, you'll keep receiving a £30 Amazon Gift Card.
Why refer a friend to 1ST CENTRAL?
Competitive on price
We've got smart people working hard in our Pricing team to make sure you're getting the best price possible for your car and home insurance.
View your policy 24/7
Log in to Your Account to review your information and documents with ease – anytime, anywhere. 
24/7 claims service
Whether you prefer to speak to us on the phone or would rather do it online, we're here to help if you need to make a claim on your car or home insurance.
Rated 'Excellent' on Trustpilot
We regularly ask our customers to leave us honest reviews, telling us what they think about our service, which helps us to continually improve.
Easy payments
Whether it's a question about your policy or monthly payments, you can manage and view your payments in Your Account.
Free European Cover
Our cover includes 90 days of travel within the EU, which can be extended for longer periods of time.
Our car insurance has been rated 5 Star by Defaqto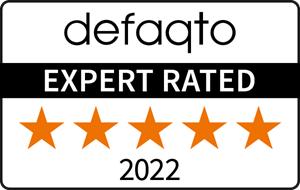 Terms and conditions
The following terms and conditions refer specifically to the 1ST CENTRAL Refer a friend offer.
You can also look at the Frequently asked questions for this promotion. If you can't find an answer to your question, you can raise an enquiry with our customer support team.
'We' or 'Us' or 'Our' means '1ST CENTRAL', a trading name used by First Central Insurance Management Ltd.
We are dedicated to protecting your privacy when you visit our website, 1stcentralinsurance.com. If you would like to know more, please look at our Privacy & Cookie Policy.
This promotion is applicable to 1ST CENTRAL existing customers (the referrer) who use our online Refer a friend process to recommend us to another person they know (the recipient). Rewards can be given if the recipient purchases a new car insurance policy directly from us, using the links provided.
To be eligible for the reward, the recipient can make their purchase up to 1 year after the referral date, even if the purchase date is after the promotion has closed.
All new policies must be validated by us before rewards can be issued. This will happen 45 days after the policy start date. Upon meeting our validation criteria, both the referrer and the recipient will be sent an email within 30 days, containing details of how to claim their rewards.
We are unable to respond to queries about whether you will receive your reward before 45 days have passed after you begin a new insurance policy. This is because we will not be able to provide you with any further information until the policy has been validated.
If your purchase has not tracked correctly but you believe you are eligible for a reward, we will investigate your claim provided we receive your enquiry within 30 days of the promotion closure date specified in point 4. In this case it may take longer to issue you with a reward.
After clicking through to the 1ST CENTRAL website from the link in the referral email or registering after clicking the link in a social media post, you must complete the purchase within 1 year to remain eligible for your reward. The award is not available to purchases made through insurance price comparison sites.
The purchase must be completed online. Clicking on the link in the referral email or registering after clicking the social media post provides our Rewards fulfilment team with essential information, which is then linked to your online purchase. If you make your purchase over the telephone, we will not be able to make that link and you will not receive your reward.
Similarly, if you do not click the link in the email or click on any other advertising or promotions in between leaving the email and making a purchase from 1ST CENTRAL, you will not receive your reward.
The reward is only available for new customers, in relation to the inception of a new car insurance policy. Renewals of existing 1ST CENTRAL insurance policies are not eligible for this reward.
Retrieved insurance quotations generated before you clicked the referral link are not eligible for this reward.
To enable us to track your order you must ensure that your browser accepts cookies, and that you have Javascript enabled on your browser. If these are not enabled on your machine then your transaction will not be recorded and you will not receive your reward.
The promotion is administered by Optimise Media Ltd ("Optimise") acting as a Data Processor on behalf of 1ST CENTRAL. Optimise will collect and process the First Name, Last Name and Email Address of all participants which will be used to enable Optimise to issue emails confirming referral registrations, tracked sales and for the notification and sending of rewards. An Optimise tracking cookie containing pseudonymous campaign identifiers will also be used to enable the campaign to be administered correctly. Any personal data held within Optimise systems will only be used for the purpose of the campaign as agreed with 1ST CENTRAL and will be anonymised once the reward has been issued and all related administration has been completed.
Please note this programme is being monitored. We reserve the right to suspend or cancel transactions suspected of being fraudulent and such customers may have their details passed to relevant authorities for further investigation.
First Central Insurance Management Ltd is authorised and regulated by the Financial Conduct Authority (firm reference number: 483296).Registered in England and Wales (number: 6489797) at Central House, 25 - 27 Perrymount Road, Haywards Heath, West Sussex, RH16 3TP.
This promotion can not be used in conjunction with any other offer.
*Amazon.co.uk is not a sponsor of this promotion. Amazon.co.uk Gift Cards ("GCs") may be redeemed on the Amazon.co.uk website towards the purchase of eligible products listed in our online catalogue and sold by Amazon.co.uk or any other seller selling through Amazon.co.uk. GCs cannot be reloaded, resold, transferred for value, redeemed for cash or applied to any other account. Amazon.co.uk is not responsible if a GC is lost, stolen, destroyed or used without permission. See www.amazon.co.uk/gc-legal for complete terms and conditions. GCs are issued by Amazon EU S.à r.l. All Amazon ®, ™ & © are IP of Amazon.com, Inc. or its affiliates.